Shree Kedarnath Dham
Kedarnath is not just the Kedarnath Dham Temple. Its a town which comes under Rudraprayag Panchayat and is globally famous for "Shri Kedarnath Dham" and many beautiful valley, & waterfalls.
In this below guide on Kedarnath Dham, we gave shared details on Shri Kedarnath Temple, how to visit Kedarnath, when its open and also a few packages which we offer for Kedarnath Yatra.
And if you have any questions that you want to discuss on call, email of whatsapp, then contact me at:
About Kedarnath Temple
Kedarnath is an anther name for Mahadev Shiv, or many locals say "Baba Barphani of Garwal Himalayas". There are many tales on how this temple came to existence but 2 most popular ones are that the Kedarnath Temple was re-developed by Adi Shankrachayra, who is the most famous Hindu Saint of 8th Century AD.
It is also said to the 1st yatri of Char Dham Yatra. His smadhi of is also setup at Kedarnath Dham area in 2021 by the Indian Prime Minster.
It is said that Adi Shankrachayra re-developed the Kedarnath temple which was originally built by the Pandvas of Mahabharat era, more on this later.
Adi Shankrachayra also setup the "Shri Shankracharya Math" in Joshimath region which is visited in big numbers by travelers on Char Dham Yatra.
The temple of Kedarnath is open only 6 months in a year, from the date of Akshaya Tritiya (around later April) till Kartik Purnima (around early November).
In later month weather is so cold that the Temple gates are closed for all and even the vigraha of the temple is brought down to Ukhimath temple which is near Guptkashi.
Kedarnath Temple History
So as we know that the Kedarnath Temple was redeveloped in 8th Century, which makes it almost 1200 years old. But it was re-developed back then. The Origin of the temple is way more older that that, maybe more than 5000 years.
It is said that the Pandavas, who were the winners of Mahabharat war, where they had to kill their brothers, relatives & brahmins, wanted to seek forgiveness for these killings from Mahadev Shiv. And hence they went to Kashi, which is the city of Mahadev. But Shivji was in no mood of seeing the Pandavas and thus he disappeared from Kashi.
Later Pandavs were able to find Mahadev, who has taken the form of a bull & was roaming in Garwal region of Himalayas. Pandavs went there but couldn't find Mahadev as there were so many bulls, making it impossible to find Mahadev.
So the Pandavs sought out a plan where Bhim, the 2nd Pandav increased his body size (a vardan which he had) and stretched his legs, which also created the valley where Kedatnath Temple and all dharamshalas are situated.
The Pandavas then forced all the the bulls to pass under Bhim's legs and then it was Bhim who noticed that one particular bull is not coming to him, and he realized that this bull must be Mahadev himself.
So Bhim grabbed that bull from back and as soon as he did, the bull disappeared.
Origin of Kedarnath Temple
When the bull disappeared, all 5 body parts of the bull came out of the ground like the Hemp of the Bull come out in Kedarnath area, and it is said that the Kedarnath temple was built around that Hemp.
Similarly the arms of the bulls appeared near Chopta where Tungnath Temple is created, the face of the bull appeared in Rudra Nath where Rudranath Temple was created, the navel & the stomach appeared in Gaundar & Urgam Valley which led to the creation of Madhyamaheshwar and Kalpeshwar Temple.
And all these 5 temples are also known as Panch Kedar. The Yatra of Panch Kedar is more difficult then Char Dham, and only Kedarnath Temple is a part of  Char Dham Yatra, one of 12 Jyotirlinga and 275 paadal petra sthalams.
Today the Kedarnath Temple is situated in Kedarnath Valley which is at a glacier, and next to Mandakini river. The first sight of the valley where the temple is, is so beautiful that all the travelers who started Kedarnath Yatra from Gaurikund simple forget their 18-20 km trek and just get lost in the atmosphere.
How to visit Kedarnath Temple?
Kedarnath Temple is open from April to November, and exact dates are decided as per two particular dates of Hindu Calendar. These are Akshaya Tritiya and Kartik Purnima.
In 2023, the exact dates for Kedarnath Temple are 27 April 2023 and it open till 21 November 2023.
To reach the temple we suggest to start your journey from Haridwar, or Dehradun. Haridwar as its well connected with road and train station, and Dehradun which also has an airport (Jolly Grant).
From Haridwar you first need to reach Sonprayag, and then Gaurikund. From here you can either trek/ walk for 18-20 km, take a horse ride, palki and there is also an Helicopter service from Guptkashi to Kedarnath.
The best time to visit Kedarnath is from April to mid-July, and then from September & October. The best place to stay for Kedarnath Dham Yatra is Guptkashi and Kedarnath dham area, where you will find many Dharamshala, camps by GMVN.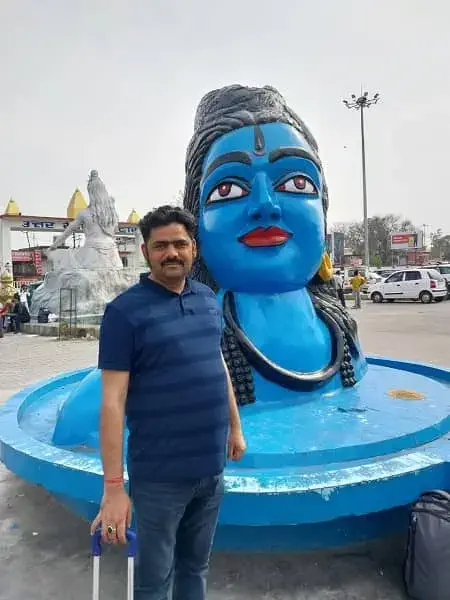 Mr CB Singh at Haridwar Railway Station