Salim Singh ki Haveli Jaisalmer
Things to do & see: Rajasthani Architecture, Stone Carvings, Mirror work

Entry fees: Rs 10 & Rs 15 (Indians & Foreigners)

Visit duration: 1-2 hours
Jaisalmer havelis are the most popular sightseeing places of Jaisalmer and all of them are located hardly 10 min walking distance from Jaisalmer Fort.
So after you have visited Jaisalmer Fort, you must make sure that you visit these havelis and have a look at their unbelievable architecture.
There are around 6-7 havelis around Jaisalmer Fort, and Salim Singh ki Haveli is the most outstanding of them all. It was built in the year 1815.
This haveli has an interesting history behind its construction, which makes it even more attractive than the other havelis.
So to read more about Salim Singh ki Haveli, go to the sections below, where you will find details like entry fees, visiting hours, nearby hotels, tourist attractions and so on.
And don't forget to read more about the Top Tourist Sites in Jaisalmer.
Along with Salim Singh ki Haveli, also view images & details on:
This giant fortress of Jaisalmer is in the middle of the city and you will find many other tourist sites of Jaisalmer around this fort.
If there are sites in Jaisalmer city like Jaisalmer Fort, the attractions of Jaisalmer desert is even more beautiful.
Gadisar Lake is where you can go on a boat ride and view temples and other monuments on the shores. Perfect for photography and relaxation.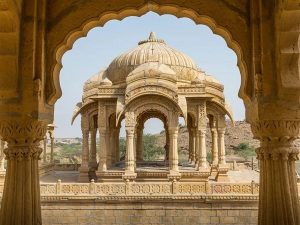 Many bollywood movies are shot here in Bada Bagh. This sandstone memorials are great for viewing sunsets and photography lovers.
Our service in Jaisalmer:
See all Jaisalmer city landmarks like Jaisalmer Fort, Patwon ki Haveli, and go on day trips to Tanot Mata, Sam Sand Dunes in our Jaisalmer Taxi Service.
In our Jaisalmer Sightseeing Tour, you can see all famous Jaisalmer places of interest, and even hire a tour guide to tell you the history of the places.
You can book for 2/3/4 day Jaisalmer tour package with us, and even plan for a longer 7 day tour and visit Jodhpur, Jaipur, Udaipur etc.