Jaisalmer Fort (Jaisalmer Golden Fort or Sonar Quila)
[fusion_images picture_size="auto" hover_type="none" autoplay="yes" columns="1″ column_spacing="0″ scroll_items="" show_nav="yes" mouse_scroll="no" border="yes" lightbox="no" hide_on_mobile="small-visibility,medium-visibility,large-visibility" class="" id=""][fusion_image image="https://rajputanacabs.in/wp-content/uploads/2019/09/1.-Jaisalmer-Fort-View.jpg" image_id="12813|full" link="" linktarget="_self" alt="" /][fusion_image image="https://rajputanacabs.in/wp-content/uploads/2019/09/2.-Patwa-ki-Haveli-Jaisalmer.jpg" image_id="12812|full" link="" linktarget="_self" alt="" /][fusion_image image="https://rajputanacabs.in/wp-content/uploads/2019/09/3.-Salim-Singh-ki-haveli-Jaisalmer.jpg" image_id="12814|full" link="" linktarget="_self" alt="" /][fusion_image image="https://rajputanacabs.in/wp-content/uploads/2019/09/4.-Nathmal-ki-Haveli-Jaisalmer.jpg" image_id="12815|full" link="" linktarget="_self" alt="" /][fusion_image image="https://rajputanacabs.in/wp-content/uploads/2019/09/5.-Cannon-point-Jaisalmer.jpg" image_id="12817|full" link="" linktarget="_self" alt="" /][fusion_image image="https://rajputanacabs.in/wp-content/uploads/2019/09/6.-Jain-temples-in-Jaisalmer-Fort.jpg" image_id="12816|full" link="" linktarget="_self" alt="" /][/fusion_images]
Things to see: Haveli's, temples & markets.

Entry fees: Free & pay only for haveli's

Visit duration: 3-4 hours
Jaisalmer Fort, also known as Sonar Quila, is one of the largest fort in India, which was built in 1156 AD.
Jaisalmer Fort is one of very few live forts where still 25% of total Jaisalmer population lives, as till 1947, Jaisalmer city was only this fort, there was nothing outside.
The Fort get the term "golden" in it name because, when the sunlight is maximum (around noon), the yellow sandstone, which covers all the walls, shine in golden colour.
It is one of 2 major tourist attractions in Jaisalmer, other being the sand dunes in Jaisalmer, & below you will find details on Jaisalmer Fort, and what all sites you can visit here.
In Jaisalmer, the 2 most popular desert sites are Sam & Khuri, which you can plan to visit after viewing their pics & details.
Jaisalmer Fort, City & nearby area like Lodhavara are blessed with some beautiful Jain Temples. Click below to view them all.
Just outside Jaisalmer Fort area, you will find a beautiful, peaceful spot with a lake (Gadisar Lake) along with ghats temples, catfish & boat rides.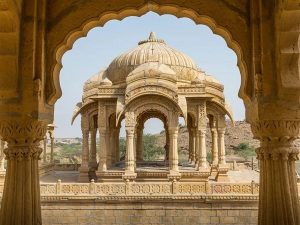 Bada Bagh is a desert garden site with sandstone made cenotaphs of rulers of Jaisalmer & is rated as best site for sunset. View pics & details.
Our taxi & available tours in Jaisalmer:
Rajputana Cabs offer its sedan, innova & luxury cars in Jaisalmer for local city tour, trip to Sam desert etc. View complete details.
Plan a city tour of Jaisalmer, along with trip to Sam sand dunes, Tanot Mata Temple, Longewala etc, in our company taxi.
View our Top 10 Jaisalmer tour packages, for minimum 3 days to 7 days, all inclusive of Private car with driver, sightseeing, safari etc.