[fusion_images picture_size="auto" hover_type="none" autoplay="yes" columns="1″ column_spacing="0″ scroll_items="" show_nav="yes" mouse_scroll="no" border="yes" lightbox="no" hide_on_mobile="small-visibility,medium-visibility,large-visibility" class="" id=""][fusion_image image="https://rajputanacabs.in/wp-content/uploads/2019/09/1.-Gadisar-Lake-Jaisalmer.jpg" image_id="12837|full" link="" linktarget="_self" alt="" /][fusion_image image="https://rajputanacabs.in/wp-content/uploads/2019/09/2.-Gadisar-Lake-Jaisalmer.jpg" image_id="12838|full" link="" linktarget="_self" alt="" /][fusion_image image="https://rajputanacabs.in/wp-content/uploads/2019/09/3.-Gadisar-Lake-Jaisalmer.jpg" image_id="12839|full" link="" linktarget="_self" alt="" /][fusion_image image="https://rajputanacabs.in/wp-content/uploads/2019/09/4.-Gadisar-Lake-Jaisalmer.jpg" image_id="12840|full" link="" linktarget="_self" alt="" /][fusion_image image="https://rajputanacabs.in/wp-content/uploads/2019/09/5.-Gadisar-Lake-Jaisalmer.jpg" image_id="12841|full" link="" linktarget="_self" alt="" /][fusion_image image="https://rajputanacabs.in/wp-content/uploads/2019/09/6.-Gadisar-Lake-Jaisalmer.jpg" image_id="12842|full" link="" linktarget="_self" alt="" /][/fusion_images]
Things to do & see: boat ride, temples.

Entry fees: Free
Boat ride: Rs 10, 50 & 200 per person

Visit duration: 1-2 hours
Gadisar Lake is a beautiful water body in the middle of the desert city of Jaisalmer. This is an artificial lake built during the time of King Rawal Jaisal, who formed the Jaisalmer city in 12th century AD.
At Gadisar Lake, you can come here to enjoy a boat ride, feed fish & also see the stunning architectural works done on the river ghats.
At the Ghats you will find many temples (especially the Shiva temple), Chattris (cenotaphs). migratory birds as Gadisar lake is one of very few water body in Jaisalmer district & many locals selling hand made handicrafts.
Gadisar Lake is a beautiful tourist attraction in Jaisalmer & quite famous among those travellers who love photography.
So, plan a trip here during sunrise or sunset & do check out more details about Gadisar Lake below.
The main tourist attraction in Jaisalmer city is its Fort, known many names like Sonar Quila, Golden Fort etc.
Know more about the desert area of Jaisalmer, especially about Sam sand dunes & Khuri Sand Dunes. Know more about them.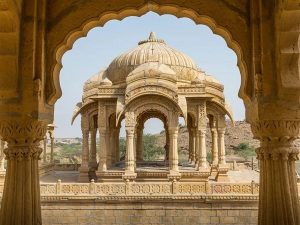 Bada Bagh is one of 2 popular cenotaphs sites near Jaisalmer city, which you can visit especially during evening. View pics & more details.
View our tour & travel service in Jaisalmer:
The number 1 outdoor activity in Jaisalmer is desert safari tours on camel or jeep at Sam sand dunes, which you can book from us.
Plan a 3 days to week long tour package for Jaisalmer, all inclusive of taxi with driver, sightseeing, safari & hotel. camp stay. View all details.