Jaisalmer Jeep safari tours from Rajputana Cabs® Jaisalmer
Enjoy a 30-60 minute of desert jeep ride in our Mahindra Thar jeeps at the dunes of Sam, starting at ₹ 450 per person & ₹ 2000 for whole jeep (6 seater) with our Jaisalmer Jeep Safari tours.
Our Jaisalmer Jeep safari tours
We offer Jeep Safari at Jaisalmer, starting from our desert camp (Rajputana Desert Camp) or also pick from Jaisalmer city, as per guest preference and later offer musical & dance program with buffet dinner at our camp. Available Jeep Safari tours are:
One hour Jeep safari tour
Jeep Safari with dinner & dance
Jeep Safari with dinner, dance & transportation
Jeep safari with overnight camp stay
Jeep safari with overnight camp stay & transfers
View details of all these tours below, along with their fare, inclusions & related services like camel safari, dune basing, city sightseeing & feel free call us anytime at:
Our Jaisalmer Jeep safari tours
Plan & enjoy a Jeep safari at the sand dunes of Sam (45 km from Jaisalmer city), visit the sunset point of Sam and by night, & then enjoy a musical dance program at our camp with buffet dinner.
Package 1
Enjoy 30-60 minutes Jeep Safari ride starting from our desert camp (Rajputana Desert Camp), at an all inclusive fare mentioned below.
fare: Rs 400 person
Package 2
Enjoy a half day tour of Jeep Safari at Sam sand dunes with Musical dance progra,. buffet dinner, evening tea and all of this at our desert camp in Sam Jaisalmer.
fare: Rs 1000 person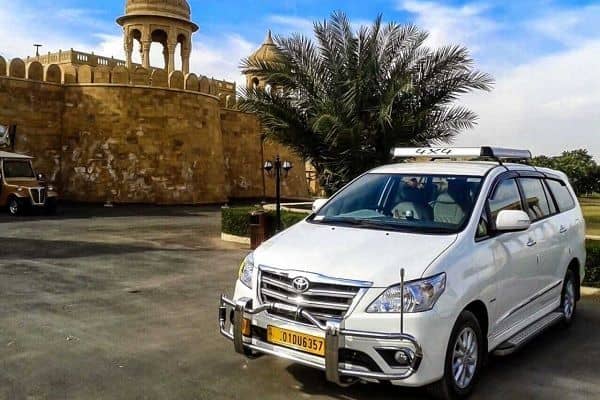 Package 3
This is an 8 hour tour, which starts by 3-4 pm from your pick up in Jaisalmer city, then jeep safari tour, musical program at camp, evening tea, Buffet dinner and drop back to Jaisalmer city by 10-11 pm
fare: Rs 1200 person
Package 4
This is a "camp night stay" tour with Jeep safari, where you will have a:
Camp or Cottage confirm booking
Buffet dinner & breakfast
Evening tea snacks
And all safari activities
fare: Rs 1750 person
Package 5
This is an all inclusive Jeep safari & camp stay package, including pick & drop from Jaisalmer city. The tour inclusins are
Cab pick & drop from city
Jeep safari & camel safari tour
Musical dance program
Buffet dinner
Camp booking &
Morning breakfast.
fare: Rs 2000 person
For more details on our Jeep Safari tours, or to plan a corporate tours, feel free to contact us at below details:
Apart from our Jaisalmer office, you can also meet is at our Jaipur & Delhi office. Office address mention at our contact us page.
Please note: The above rates will be minimum 20% higher on Diwali week and from 23rd December to 2nd January. Plus the best time to plan these safari tours is from 4 to 7 pm or at morning before breakfast.
Plus never come with full belly for safari tour. And do checkout our Quad bike safari and Toyota Fortuner safari tour details, shared below.
Companies that show trust in Rajputana Cabs (Our clients)
CONTACT FORM:
To book or to get group discount for our Jeep safari tour, contact  our manager Mr Pratap Singh at:
More related tours:
Apart from Jeep safari, we offer Camel safari, Dune bashing & Jaisalmer city sightseeing & day trips.
Package 6
In our camel safari tour, the starting point is our camp, then leave for a camel safari ride at sand dunes, also visit Sam sunset point and come back in an hour.
fare:
Package 7
In our dune bashing tour, we provide 4×4 jeeps, quad bikes, couple dune bashing tour etc & later add evening relaxation muscal dance show with dinner.
fare:
Package 8
Book our luxury jeep safari tour in Jaisalmer with our toyota Fortuner car available from pick up from city to dune bashing at Sam san dunes at:
fare per day:
Rs 1500 per person
Rs 7500 whole car
Package 9
Hire our taxi in Jaisalmer city and enjoy a guided Jaisalmer city sightseeing. Check the list of all the tourist places in Jaisalmer at this link and fare for these tours are:
fare per day:
Rs 1600 per day sedan
Rs 2500 for Innova
Rs 3500 for crysta
Package 11
Jodhpur is 4-5 hour drive from Jaisalmer & you can plan 1 day same day trip or next day teturn trip, and explore its amazing sites liek Umaid Bhawan,. Mehrangarh Fort & more.
fare:
Rs 6,000 for sedan car
Rs 8,000 to 12,000 for SUV
About the desert dune area of Jaisalmer:
Know more about Sam Sand Dunes and Khuri Sand Dunes, in Jaisalmer.
Sam sand dune
Sam is the most popular desert dune destination which is 45-50 km from Jaisalmer city. Sam is famous for safari tours & has the highest number of desert camps in Jaisalmer, including ours (Rajputana Desert Camp).
Khuri sand dune
Khuri sand dune: After Sam, the sand dune of Khuri is quite popular. Travellers who are interested to explore the village life of Jaisalmer desert, prefer Khuri over Sam. At Khuri one can experience village food & stay.
View our blogs on Jaisalmer & Jodhpur
Jodhpur is Rajasthan 2nd biggest city, and you can [...]
Delhi to Jaisalmer trains, flights & road routes Jaisalmer [...]
I have have been living in Jaipur for more [...]
Visit our Jaisalmer office:
Office Address:
Dhiba Para Behind Rajsthali Showroom Vard No. 3, Jaisalmer, Rajasthan 345001
Email: rajputanacabsindia@gmail.com
Ph: +91 9828627722 (Mr CB Singh)
Useful packages & services:
FAQ:
1. Where exactly in Sam sand dunes, your office is?
Answer: Our office and team is at Rajputana Desert Camp in Sam, and all our jeep safari tours, along with camel safari is conducted here.
2. How can I reach Sam sand dunes from Jaisalmer?
Ans: You can either hire a local taxi in Jaisalmer city or have a look at our Jaisalmer to Sam taxi package, where we offer one side drop to Sam & round trip at best fare.
3. Do you offer jeep safari at Sam only?
Answer: 90% of our safari tours are conducted in Sam, but there is also Khuri sand dunes area where we offer Jeep & Toyota Fortuner safari tours, mostly to our corporate clients.
Jaisalmer Jeep Safari rate chart: