I have have been living in Jaipur for more than 35 years.
And in this post I've shared info on what places you can visit in 2 days in Jaipur.
Also some new tourist places that have opened in Jaipur.
So I am amusing that you have arrive in Jaipur by morning and thus below we have created a 2 days Jaipur itinerary.
Here you will know what to see on Day 1 and then on day 2.
Plus, I have also shared few more sites, if you decide to stay one more (Day 3) in Jaipur.
And also check out our post on Places to visit near Jaipur for 2 days.
Day 1 in Jaipur
Explore the Pink City part of Jaipur & Chokhi Dhani by night
Today you will start your Jaipur sightseeing with visit of below sites
Chokhi Dhani
The first three sites are in Pink City part of Jaipur and are all in 1 km radius. Plus you can also checkout markets near Hawa Mahal like Bapu Bazar, Johri Bazar etc,
Tip: Check out LMB restaurant and Tattoo Cafe & Lounge near Hawa Mahal for good Lunch options.
1. Hawa Mahal
Hawa Mahal is the most iconic site in Jaipur, which you will definitely see even iy you are driving from Jaipur Railway Station/ Airport to your hotel.
Plus the picture you see above or anywhere on the web, is actually the backside of Hawa Mahal.
The original palace wall is inside the Hawa Mahal Complex which is a 7-8 story building, constructed in 1799 by Sawai Pratap Singh for the women of his family.
So my request is to buy the entry ticket and enter the complex of the one of many Palaces in Jaipur, as the first site you will visit in Jaipur.
The City Palace of Jaipur is by far the one of the best tourist site in Jaipur. A small walk of 400-500 meter will bring you from Hawa Mahal to City Palace, where you need to pay an entry fees between Rs 200 to Rs 3000.
In the Rs 200 entry fees you will be able to visit their museums, courtyard and in their Rs 3000 ticket, you will get a guided tour & exclusive access to the Chandra Mahal Palace, which is the 7 story building that has the original palace rooms of the Maharaja of Jaipur.
You may find the entry fees of City Palace a bit expensive as this whole complex is still a private property of the royal family of Jaipur, and they have still maintained the glamour of this stunning palace. So its worth a visit.
Some of the must visit places inside city palace are:
The entry gate "Rajendra Pol". The entry gate near ticket counter.
Sarvato Bhadra, also known as "Diwan-e-Khas"
Mubarak Mahal, a one storey palace that now turned into a museum.
Chandra Mahal Palace, the 7 storey building with 3 palaces inside and the best place in the whole city Palace complex.
Plus, along with this museum, palace etc, there is a beautiful temple of Krishan ji, name Govind dev ji temple. Do check that out.
And the 3rd attraction trio (Hawa Mahal, City Palace & this) is Jantar Mantar. Just 110 meter from City Palace entry gate, you will find your self at the Jantar Mantar ticket counter.
Both Jantar Mantar & Hawa Mahal are government property and this the entry tickets here are quite low. For Jantar Mantar its Rs 50 for Indian citizens and Rs 200 for foreign nationals.
At Jantar Mantar, you will find a total of 19 astronomical instruments, built by Sawai Jai Singh 2 in 1734 and the main attraction here is the world larhest sundial.
Jantar Mantar today is a UNESCO world heritage site and a tour of this place is around 1 hour. So if you have 2 full days to explore Jaipur, then do visit this site.
Built in 1887 & named after King Edword 7, Albert Hall Museum, is one of the finest museum in whole Jaipur for 2 reasons. 1st the building itself is stunning & is one of the best place to grab some pictures with your love ones.
And second, this place has a huge collection of stunning artefacts like golden shields, ivory statues, weapons, old currency and a real Egyption Mummy.
Out of many Birla Temples in India, the one in Jaipur is very beautiful and also dedicated to Lord Vishnu. The whole temple complex is made up of marble stones & you will also find many beautiful wall graved statues here.
The Birla temple of Jaipur was opened in 1968, named after BM Birla and the temple is situated on a small hill (Moti Dungari hill) & just above the hill you will also find a deserted fort.
Opening time & Entry fees of Birla Temple Jaipur:
Entry time of Birla Temple:

6 am to 9 pm and temple is closed from 1 pm to 3 pm

Entry fees of Birla Temple:

free, as its a temple.

Location:

Jawahar Lal Nehru Marg, Tilak Nagar, Jaipur, 3 km straight drive from Albert Hall
6. Jawahar Circle/ Patrika Gate
Jawahar Circle is one of the biggest round/ circular park in whole Asia and in between lies a new tourist attraction for travellers planning to visit Jaipur.
The entrance fare of Jawahar Circle is Patrika Gate, with beautifully designed walls and here you will find beautiful wall paintings on all pillars. Plus the statues build in all entry points makes Jawahar Circle one of the best place to grab a selfie in Jaipur
Opening time & Entry fees of Jawahar Circle:
Entry time of Jawahar circle:

Sunrise (around 6 am) till 9 pm

Entry fees of Jawahar circle:

Rs 10 for Indian tourists and Rs 20 for foreign tourists.

Location: Jawahar Lal Nehru Marg, near Jaipur Airport & 5 km straight drive from Birla Temple.
And with this you can finish the sightseeing tour of Jaipur on Day 1. Today you will be focusing most of your time in Pink city part and JLN Marg.
And below you will find more details on your day 2 tour plan of Places to visit in Jaipur in 2 days.
View our suggested Jaipur sightseeing packages for a day:
One day Jaipur city tour
Book our one day Jaipur city tour and explore all the above mentioned sites & more for as low as Rs 1200 per sedan car. A maximum of 4 people can enjoy this tour at same price. Click below to view our tour.
Night tours of Jaipur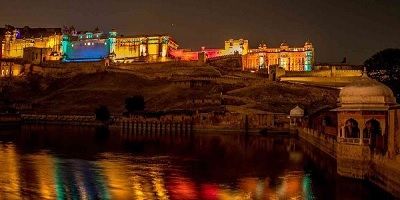 Have a look at our Top 10 Jaipur Night tours, where you will explore the night view of many stunning tourist sites, along with trips to Chokhi Dhani, Amber Fort, Nahargarh Fort etc.
Day 2: The best of Amer Jaipur
On day 2, it would be best to give most of your time at Amer, which was built much earlier than Jaipur & today its a part of Jaipur, and to visit Amer, you will have to go up the slopes of rocky mountains in cabs.
In this incredible trip to Amer, you will see some of the most beautiful monuments in the entire Jaipur, and below are their names:
Note: There are around 10 popular tourist sites in Amer & the one which I believe are mest-see have a sign ahead of them.
Jal Mahal (must-see)
Amber Fort (must-see)
Jaigarh Fort (must-see)
Kanak Vrindavan Garden
Panna Meena Kund
Royal Gaitor
Nahargarh Fort
Jaipur Wax Museum
Once you enter Amer, you will see this magnificent palace right in the middle of Man Sagar Lake, on your way to Amer Fort. That's Jal Mahal.
Jal Mahal is a 5 storeys high & four storeys are under water and only the top one is visible to us. You cannot go to Jal Mahal as it's not open to the general public, but view its majestic outer portion.
Jal Mahal was built by Maharaja Madho Singh in 1750 as a hunting lodge, and today, you can sit on the banks of Lake Man Sagar and view this royal palace. You will see many birds in the lake and if you want some refreshments, there are plenty of them available on the lakefront.
Opening time & Entry fees of Jal Mahal:
Entry time of Jal Mahal:

Sunrise to 8 pm

Entry fees of Jal Mahal:

Free.

Jal Mahal Location:

Amer Road, Jal Mahal, Amer, Rajasthan 302028
Amber Fort or Amber Palace, is the most visually stunning monument in Amer, and a major attractions in the whole of Jaipur. This massive fort was built in 1592 by Maharaja Man Singh I, and later on, many other Rajput kings added other structures and monuments inside the fort.
A series of steps will lead you inside the fort, where there are spacious courtyards like Jalab Chowk, exquisitely painted gates like Suraj Pol, royal Mughal gardens, opulent palaces like Sukh Mahal, and stunning architecture all round.
Opening time & Entry fees of Amber Fort:
Entry time of Amber Fort:

8 am to 4:30 pm

Entry fees of Amber Fort:

Rs 100 for Indian tourists, and Rs 500 for foreign tourists.

Amber Fort Location:

Devisinghpura, Amer, Rajasthan 302028
The Jaigarh Fort is very close to Amer Fort. in fact Jaigarh Fort was built by Jai Singh II to guard over Amer Fort. Both these forts are connected by underground passages for the royal families to escape during times of war.
The most striking feature of Jaigarh Fort is its rugged nature & long walls built along the ridge of a hill. As you stroll through the passages, you will be able to see the entire region from above.
At the fort, you will also see a cannon, name Jaiwana Cannon, which in its time, it was the world's most destructive cannon on wheels.
Opening time & Entry fees of Jaigarh Fort:
Entry time of Jaigarh Fort:

9 am to 4:30 pm

Entry fees of Jaigarh Fort:

Rs.35 for Indian tourists, and Rs.300 for foreign tourists.

Jaigarh Fort Location:

Devisinghpura, Amer, Rajasthan 302028
So in my view, on day 2, most of your time will be taken by these three sites. But still Amer is a beautiful area and has much more to offer. So I would suggest you to adjust a bit more time and visit few of the below more tourist sites in Amer Jaipur.
More amazing sites to see in Amer
10. Kanak Vrindavan Gardens
At Kanak Vrindavan, you will find a beautiful gardens with fountains, magnificent marble monuments, temples and lush greenery everywhere.
You will also see the exquisite mirror-work in the temples devoted to Govind Devji (Lord Krishna) built inside the park. The garden was made to resemble the mythical Vrindavan gardens in which Lord Krishna played in his childhood.
So just can take a stroll on the garden paths or just sit on the grass and admire the peace.
Opening time & Entry fees of Kanak Vrindavan:
Entry time of Kanak Vrindavan:

8 am to 5 pm

Entry fees of Kanak Vrindavan:

Free for all.

Kanak Vrindavan Location:

Amer Road, Jal Mahal, Amer Jaipur, 302002
In Amer, most of the tourists will visit Amer Fort, but Panna Meena Kund (which is just next to Amber Fort) is a hidden jewel in Amer, & is missed by many tourists.
Panna Meena Kund is an ancient stepwell or baori is only one of the well maintained stepwells in Jaipur.
It's believed to be constructed in the 16th century & has eye-catching design of steps, a nearby temples that are like 400-500 year old and overall, a wonderful architecture behind its construction. And thus in my view, you can give like 15 minutes to this site, and after visiting Amber Fort.
Opening time & Entry fees of Panna Meena Kund:
Entry time of Panna meena ka Kund:

Sunrise to 5:30 pm

Entry fees of Panna meena ka Kund:

Free.

Panna meena ka Kund Location:

Amer, Near Amber Fort, Amer Jaipur, 302002
Royal Gaitor, or as locals calls it "Gatore Ki Chhatriyan" is a cemetery of Kachhwaha clan of Rajput kings who ruled Amer and Jaipur
When you will enter this quite place, you will see many temple-like structures or monuments made in their memory of Jaipur kings, and the most amazing is the one made in the memory of Maharaja Jai Singh II, the founder of Jaipur.
For me, only those travellers should visit Royal Gaitor who wants to see some incredible sculptures with domes or chhatris, made up by stunning carvings on stone and marble. This site in my view, is an picturique site in Jaipur.
Opening time & Entry fees of Royal Gaitor:
Entry time of Royal Gaitor:

9 am to 4:30 pm

Entry fees of Royal Gaitor:

Rs 30 (Indian tourists) & Rs 100 for foreigners.

Royal Gaitor Location:

309B, Mangala Road, Bada Akhada, Krishna Nagar, Brahampuri, Jaipur, Rajasthan 302002

Google Map Link: Click here
Nahargarh Fort is one of the three powerful forts in Jaipur, built by Sawai Jai Singh II in 1734. Its location on the ridge of a hill makes it look even more powerful, and it's visible from Jantar Mantar as well.
At Nahargarh Fort, you will see sites like Madhavendra Bhavan, which are 3 zenana (women) chambers for each of the 12 wives of the king, and all these are interconnected. There are also beautiful fresco paintings & art-work inside, and one gets to see a bird's eye view of Jaipur city from the top of Nahargarh Fort.
And Inside the premises of Nahargarh Fort, Jaipur Wax Museum is a place of amusement and recreation.
There are life-size wax statues of famous personalities like Amitabh Bachchan, Sachin Tendulkar, Dalai Lama etc. which you can see in Hall of Icons, and Royal Darbar has exquisite decorative look with beautiful paintings and wax statues of Rajput kings including Sawai Jai Singh II and Rajmata Gayatri Devi.
One can also see Sheesh Mahal, where the royal opulence of palaces is recreated through mirror-work inlays and colored glass.
Opening time & Entry fees of Nahargarh Fort:
Entry time of Nahargarh Fort:

10 am to 5:30 pm, thought few sites here are open till 8-9 pm.

Entry fees of Nahargarh Fort:

Rs 50 (Indian tourists) & Rs 200 for foreigners.

Nahargarh Fort Location:

Krishna Nagar, Brahampuri, Jaipur, Rajasthan 302002

Google Map Link: Click here
As per some of my friends in Jaipur, soon some luxury dining options are being planned to be opened here, which will make Nahargarh Fort a wonder site which you can explore till late night.
With this, you now know what are all the must-see tourist Places to visit in Jaipur for 2 days.
And as I mentioned at the top, that along with 2 days trip in Jaipur, I will also share a few more sites are do not come in must-visit but are quite popular
And if you are planning to give a day 3 for Jaipur, the you can visit a few more sites that are mentioned below.
Sites to visit on Day 3 in Jaipur
Near Amer, there is a temple by the name of Galtaji Temple, surrounded by high hills, have natural springs that come from the hilltops, that gets collected in water pools in the temple complex below.
These water pools or kund are considered sacred for bathing among the Hindus & the entire place is surrounded by hills making it scenic and attractive.
Due to a huge population of monkeys around the place, the entire place is famous as Galtaji Monkey Temple.????
The huge number of monkeys here are attracting many travellers to visit this temple as these monkeys would love to sit on your shoulder and eat peanuts, bananas etc from your hands ????????
Opening time & Entry fees of Galtaji Monkey Temple:
Best time to visit Galtaji Monkey Temple:

10 am to 6:30 pm

Entry fees of Galtaji Monkey Temple:

Free for all but there is some fees of Rs 50 for bringing a camera.

Galtaji Monkey Temple Location:

Galta Ji road, near Transport Nagar, Jaipur 302031 Rajasthan
Near Galtaji Monkey Temple, there is Sisodia Rani ka Bagh, which is a Mughal garden with supreme beauty.
It was built by Sawai Jai Singh II in 1728 for one of his wives, who was a princess of Udaipur.
All around the garden, there are hills which makes the entire place look scenic and peaceful & as you enter Sisodia Rani Bagh, you will see elegant water fountains and many types of trees and scented plants.
There are pathways to walk, and many water channels, surrounded by green shrubs and colorful flowers & in between, there are beautifully sculpted monuments, with painted frescos of Radha-Krishna and other murals.
Opening time & Entry fees of Sisodia Rani Bagh:
Entry timing of Sisodia Rani Bagh:

8 am to 5 pm

Entry fees of Sisodia Rani Bagh:

Rs.50 for Indian tourists and Rs.200 for foreign tourists.

Sisodia Rani Bagh Location:

Ghat Ki Guni, Agra Road, Jaipur, Rajasthan 302023
16. Nahargarh Biological Park
NAHARGARH BIOLOGICAL PARK
Close to Nahargarh Fort, Nahargah Biological Park is a wildlife zoo having many species of animals, birds and reptiles.
Tourists can see tigers, bears, panther, crocodiles, hyenas and other creatures & it's best for kids who gain knowledge about wildlife and environment.
You can go on a lion safari inside the park in vehicles & view lions, other animals roaming freely.
There are enclosures built for the animals and trees and greenery all around for that perfect habitat needed by the animals and also a good places for bird watching.
Opening time & Entry fees of Nahargarh Biological Park:
Entry timing of Nahargarh Biological Park:

8:30 am to 5 pm

Entry fees of Nahargarh Biological Park:

Rs 20 for Indian tourists and Rs 300 for foreign tourists.

Nahargarh Biological Park Location:

NH 8, Kukas, Rajasthan 302028
If you thought Jaipur was all about forts and palaces, then you will be astonished by the greenery of Jaipur Central Park.
This park is a nature lover's delight, where you can sit and relax, go for morning walks, admire the greenery and birdlife, go for casual walks, chat with friends.
It is a big space in the centre of Jaipur city, and the special attraction of Jaipur Central Park is the stone statues encircling the tallest flag in the country.
In the evenings, you can also enjoy the musical fountains..
Opening time & Entry fees of Jaipur Central Park:
Entry timing of Jaipur Central Park:

5 am to 9 pm

Entry fees of Jaipur Central Park:

Free.

Jaipur Central Park Location:

Prithviraj Rd, Rambagh, Jaipur, Rajasthan 302007
So now you have a list of 17 best places to visit in Jaipur in 2 days or 3. Plus I have shared some more details on:
If you've had enough of history and heritage, and want to see a different side of Jaipur, then also there's some surprise in store for you.
For here, you will find places which are so unique that you cannot imagine that they actually exist in this historical city.
These are places which are interesting, exciting, and full of amazing things, and you will definitely feel your trip to Jaipur incomplete without them.
So let's see which are these!!
18. Visit Anokhi Museum of Hand Printing
Interested in hand printing your own handbag? Or perhaps, want to see how hand block printing is all about? Then, surely visit Anokhi Museum of Hand Printing.
This museum that's all about hand printed textiles & here you will not only see artisans making block printed textiles and sarees, but also get your own handkerchief or handbag printed with your chosen block print patterns.
This site is a heritage mansion which is 4 centuries old, & inside there are exhibits of cloth with printed block patterns, different type of textiles, woven rugs, wooden blocks, fabric, chemical processes, organic dyes, artisans working on cloth printing and many others.
There's a shop where you can purchase from their collection of textiles and jewellery and also a drink kiosk for some refreshing drinks.
Address: Chanwar Palkiwalon ki Haveli (Anokhi Haveli), Kheri Gate, Amber, Jaipur
Timings: 10.30 am to 5 pm (Tue – Sat), 11 am to 4.30 pm (Sunday)
Entrance Fees: Adults (Rs.30), Children (Rs.15), Students (Rs.20)
19. Spend time in Jawahar Kala Kendra & Birla Auditorium
If you are an art lover, or even if you aren't, you should visit Jawahar Kala Kendra and Birla Auditorium in Jaipur.
Jawahar Kala Kendra is a centre for modern art exhibitions, and it is a wonderfully peaceful space, where you will find a museum, amphitheater, auditorium, library, art displays, and there's a cafeteria as well for refreshments.
Birla Auditorium has a planetarium, science museum hall, conference halls, and here you can enjoy cultural programs and students can gain knowledge about planets and celestial bodies in the planetarium.
Address & entry timing of Jawahar Kala Kendra and Birla Auditorium
Address: 2, Jawaharlal Nehru Marg, Opp Commerce College, Jhalana Doongri, Jaipur, Rajasthan 302004
Entry is free Timings: 10 am to 5 pm
Address: Statue Circle, C Scheme, Central Park Jogging Path, Rambagh, Jaipur, Rajasthan 302001
Birla Planetarium Entrance Fee: Rs.40 Science Museum Entry Timings: 10 am to 7 pm
20. Get yourself clicked at Jaipur Statue Circle
Statue Circle is one of Jaipur's most favored tourist spots, and also one of the busiest.
This is actually a traffic junction, where there is a statue of Sawai Jai Singh II, and every tourist wants to get themselves photographed with the statue in the background.
In the evenings, there are colorful water fountains and lighting. So don't forget to visit Statue Circle in Jaipur and get a selfie taken.
You can then take a stroll in Central Park which is close by.
Address: Jai Singh Cir, Ashok Nagar, Jaipur -302001
No Entry Fees
Timings: 9 am to 5 pm
21. Three famous temples of Moti Dungari, Govind Devji & Khole Ke Hanuman Ji
Out of the many temples in Jaipur, you must visit 3 most famous ones, and these are Govind Devji Temple, Moti Dungri Temple and Khole ke Hanumanji Temple.
The idol of Govind Devji, or Lord Krishna, was brought by Sawai Jai Singh II himself from Vrindavan. Moti Dungri Temple is on top of a hill, and it's idol of Lord Ganesh is said to be 500 years old.
And Khole ke Hanumanji Temple has a black idol of Lord Hanuman.
Govind Devji Temple Address: Jalebi Chowk, Jai Niwas Garden, Jaipur, Rajasthan 302002
Moti Dungri Temple Address: Moti Doongri Rd, Tilak Nagar, Jaipur, Rajasthan 302006
Khole ke Hanuman ji Temple Address: Laxman Dungri, Natata Mode Delhi Road, Kunda, Jaipur, Rajasthan 302028
Activities to enjoy in Jaipur
In Jaipur, there are some wonderful things that tourists can do, and by doing them, they will explore this historic city of Rajasthan even more.
Apart from seeing forts and palaces, if tourists want some activity to do, then read below:
22. Elephant Safari at Hathi Gaon
If you love the elephant ride in Amer Fort, then you will love the Elephant Safari at Hathi Gaon even more. That's because in Hathi Gaon, you will not only get a ride on their backs, but also see these animals at close range.
Hathi Gaon is also called Elephant Village, and it's close to Amer Fort in Amer.
It's a huge place made and designed specially to take care of mahouts and their elephants, who work during the day taking tourists on a ride in Amer Fort.
You will watch how mahouts tame these animals, feed them, bathe them, and make them take their commands.
You can even paint the elephants with organic colors to make them more attractive.
23. Night tour of Chokhi Dhani
If you want to discover Rajasthani village culture and their way of life, then you should go on a Night Tour of Chokhi Dhani.
Chokhi Dhani is an ethnic resort which recreates the Rajasthani rural setting perfectly. Here you will discover what rural life in a typical Rajasthani village is like.
You will not only enjoy a traditional Rajasthani meal, but see tribal dances, enjoy camel and bullock cart rides, live acrobatic performances, puppet show, and many other things.
There is a artisan village where you can even buy souvenirs and handicrafts and a museum showing unique features of different states. There is a fun section where kids too can enjoy.
Best time to visit Chokhi Dhani is from 6 pm to 11 pm.
24. Sound & Light Show at Amer Fort
If you are interested in knowing about the history of Rajput kings, then there is nothing better than the Sound & Light Show at Amer Fort.
The show starts in the evening time and lasts approx 1 hour. Not only Amer Fort, but you will also learn a lot more about Rajput kings and their royalty, lifestyle, traditions and Rajputana culture.
You will be sitting amidst colorful floodlights that will illuminate the outer walls of Amer Fort, and listen to an audio-visual program, where the narrator will take you through various events, legends, and chapters in the history of Rajput kings.
There will be scripted narration, music and vocal singing by well-known artists and musicians.
The show is in English and Hindi & do remember, not to record the program on your video or sound recorder as it's strictly prohibited by law.
Timings: English show at 7 pm and Hindi show at 8 pm.

Cost per person:

Rs.295
Duration: 1 hr.
And even today more tourist attractions are being prepared to attract more tourist to visit Jaipur like the Jhalana leopard safari park. So, I am sure that in coming years there will be more sites that you & me will explore in Jaipur.
If you have any suggestion or question about this article, then feel free to ask it in the below comment section.
This is a guest post written by a traveller blogger (Jatin from JatinChhabra.com) & all view shared below are from him. Jatin is our regular client and has explored 2/3 of Rajasthan with us. Hope you will enjoy this post by him on Jaipur.