Patwon ki Haveli Jaisalmer
Things to do & see: Architectural work.

Entry fees: Rs 20 for Indians
– Rs 100 for foreigners.

Visit duration: 1-2 hours
Jaisalmer city is not just famous for its desert dunes like Sam & Khuri, but also for its Mansions (Havelis).
Inside Jaisalmer Fort, you will find 8 must-see Havelis and out of them, a group of 5, are rated as the best. These are Patwon ki Havelis.
In 1805 AD, Mr Guman Chand Patwa, who was a famous merchant of gold, silver (& some even suggested opium) built a total of 5 Havel's for his 5 sons and made sure that his mansions were the best then all other haveli's like Nathmal Haveli, Salim Singh haveli etc in whole Jaisalmer.
Today, all travellers who plan a Jaisalmer Fort tour, Patwon Havelis is rated as the top site to see.
Currently, Patwon haveli has been turned into a museum (maintained by ASI) & is one of the most visited landmark of Jaisalmer.
Below you will find all information like Patwon havelis timings, location, things to see, nearby hotels along with details history & facts.
Along with Patwon Havelis, also view images & details on:
The grand castle of Jaisalmer, where you will find Patwon Havelis & other mansions along with many more landmarks.
After exploring Patwon Havelis & Jaisalmer Fort, plan a half day trip to Sam sand dunes & other sites in desert area of Jaisalmer.
Just on the edge of Jaisalmer city, lies a peaceful & beautiful landmark, an artificial lake of Gadisar. This lake is as old as Jaisalmer city.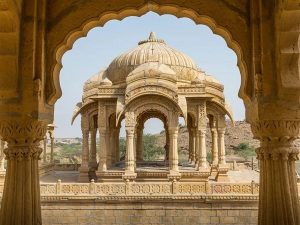 Bada Bagh, is one of 2 cenotaphs sites in Jaisalmer, which is just outside Jaisalmer city. View its images & plan a trip here.
Our service in Jaisalmer:
Book our taxi & visit all landmarks in Jaisalmer, sand dunes of Sam & Khuri and even plan day trips to Longewala & Tanot.
With us, you can plan a 3 days, 4 days, 5 days tour package for Jaisalmer, along with a visit to other cities like Jodhpur, Udaipur etc.